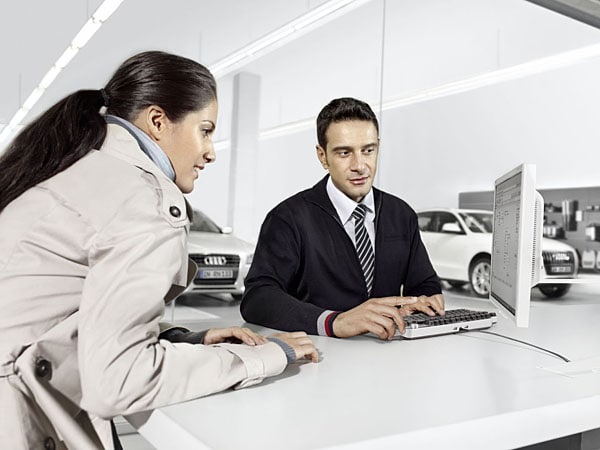 Our Team of Audi Lease and Auto Loan Specialists in Bellingham Are Here For You
Your car buying experience should be a smooth one. That's how we feel at Audi Bellingham and we make it our priority. That includes taking some of the shrouded mystery out of auto financing. Our team of Audi lease and car loan pros are here to do that, and with their passion for the job, it will be clear to you. They do their best to find the most beneficial terms for you, and negotiate the right car loan and Audi lease rates for you, ensuring satisfaction.
To learn more, submit an application from our website online. We also are free to meet face-to-face in our new Audi showroom, located at 2200 Iowa Street in Bellingham, Washington - not far from the surrounding Mount Vernon, Lynden, Anacortes and Sedro Woolley areas.


Financing Factors
 
 
 
Choice of Vehicle |
Trade
 Credit History |
 Employment

 Down Payment |
 Interest Rate

The loan rates available to you will be based on the year, model, and final cost of the vehicle you choose.



Your rates are based on numerous factors such as income, employment and credit history, including the number of open balances and late payments. 


The more money you can put down the higher your chances are of being approved and the lower your rates are likely to be.

 

Your Credit Score
Before applying for credit, it's always helpful to know your credit score which can measure from 350 to 850. The higher your credit score the less you are considered to be a risk. That translates to a lower interest rate. However, whether or not you know your credit score you can still use our credit application tool and remember, we are ready to approve you regardless of your credit score or history.
Factors Affecting Your Credit Score
Number of open credit accounts, loan and credit card payment history, amount of debt compared to annual income, frequency of credit inquiries, and number of liens and judgments.
To learn your credit score you can contact the three main credit reporting agencies:

What To Bring
What You Need to Bring With You


 Valid Driver's 
 License

       Proof of    
       Insurance

         Proof of
         Income

          Proof of    
          Residence

             Proof of
              Phone #

You Make the Choice, We Make it Easy
Every part of the car buying process should be simple. That includes determining your car payment which is just as easy our pre-approval process thanks to our online payment calculator. Just choose your vehicle and we'll tell you what you can expect to pay each month. Whatever your credit situation and budget, we've got a car for you at a payment you can afford.
It's easy. It's quick. It's safe. Get started today!