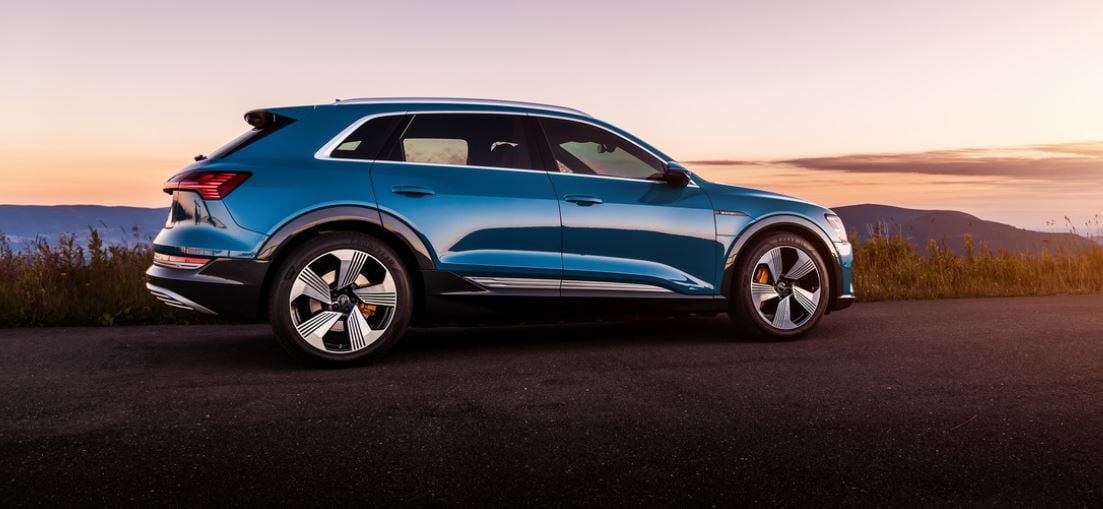 Audi Unveils the Brilliant All-Electric e-tron SUV
Prepare yourself to experience an Audi SUV with full electric power. Introducing the Audi e-tron at Audi Bellingham in Bellingham, WA. You are probably familiar with the power and luxury of Audi vehicles. Now picture the all-electric power of the Audi e-tron accelerating silently down the road. Let us tell you a bit about this new all-electric crossover from Audi, so you can decide if one is right for you! Shoppers can use our speedy directions and visit us at 2200 Iowa St in Bellingham, WA to learn more!
BEV Federal Tax Credit:
$7500 Tax Credit

*

*For Lease deals, this is a pass through of the federal BEV tax credit available to Audi Financial Services by law. For Retail and Premier Purchase deals, tax credits should be requested directly with the states and Federal government by the customer and will not be administered by AFS.
Outstanding All-Electric Specs
The Audi e-tron brings the world a practical electric vehicle that has a 54-mile range after charging for just 10 minutes, with one of its available chargers. This electric crossover is ready for the average American commute to work with a total all-electric range of 160 miles without recharging. Audi is also now collaborating with Amazon to bring a revolutionary new home charging station to Audi households across the county. This system will come complete with a home charging capsule that fully charges the e-tron battery after just nine hours when using a 240 volt/50 amp outlet.
Unforgettable Performance
Electric power gives you a sharp acceleration; the Audi e-tron accelerates from 0-60 mph in 5.5 seconds and boosts hard with 402-horsepower. You can also purchase a towing package that enables the new e-tron to tow up to 4,000 lbs.
Electrifying Design
Audi has busted out all the stops with over five years of developing the new e-tron luxury crossover. From the premium interior with standard ventilated front seats and optional massage feature to the five-blade wheels that look like something out of a movie. Pedestrians in Bellingham, WA, might not hear you drive by, but if they happen to see you, their heads are going to turn all the way around checking you out in the e-tron.
Choose From the E-Tron Premium Plus and Prestige
Schedule service is included for the first few years for Audi e-tron no matter which model you choose. We invite you to schedule an appointment for a test drive and check out all that the latest Audi e-tron crossover can do you and your future. Visit us at Audi Bellingham today!