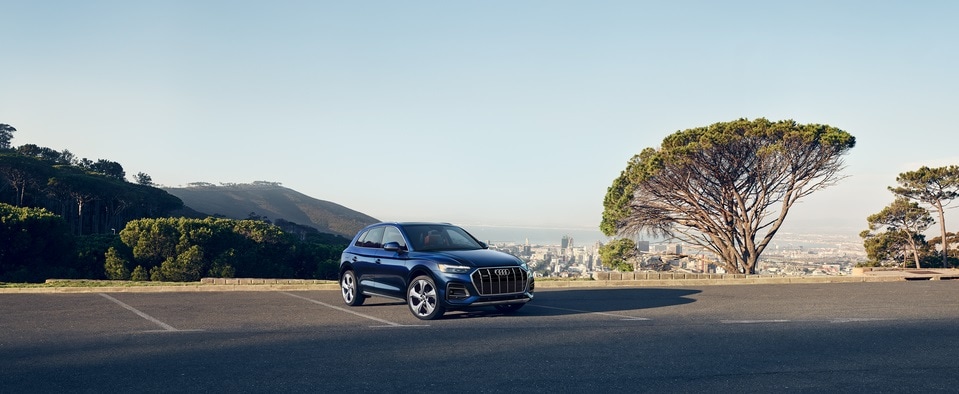 Luxury Meets Versatility: Discover New Audi SUVs in Bellingham, WA
Sport-utility vehicles (SUVs) were once considered fit for people with large families or people who worked out of their cars. However, SUVs have gained increasing popularity in recent years. Incredibly versatile, SUVs can cater to the tastes and needs of various consumers. Audi manufactures SUVs in a variety of shapes and sizes. From the compact Audi Q3 to the large Audi Q8, each Audi SUV has something different to offer.
You'll find a wide range of Audi vehicles available at Audi Bellingham. Browse our extensive inventory of new Audi SUVs and visit our dealership to test-drive a model in person. But, before you visit our showroom, we want to tell you more about the available Audi SUV models at our dealership to help you decide which one is suitable for your driving needs and style.
New Audi SUVs for Sale near Mount Vernon, WA
Audi Q3
Audi is renowned for manufacturing luxury vehicles. The Audi Q3, Audi's smallest, entry-level SUV, embodies this tradition as it's an elegant vehicle inside and out. The Audi Q3 features a premium interior with leather seats and a spacious and quiet cabin that guarantees a comfortable commute.
Plus, the Audi Q3 comes with a sophisticated infotainment system that allows you to play your favorite tunes and navigate around Lynden, WA, with relative ease. It's a great vehicle if you're looking for a luxury SUV on a budget. And if you're searching for something similar but sportier, you can consider its athletic variant, the Audi Q3 Sportback.
Audi Q5
If you're looking for aesthetic appeal and sophisticated technology, you'll love the Audi Q5. Sticking to the Audi trend, the Q5 features an exquisitely designed interior donned with leather seats, optional heated front seats, and ample legroom for a comfortable drive. Plus, it boasts a large display, Apple CarPlay, Android Auto integration, and a host of driver-assistance features. And to top it all, the Audi Q5 is capable of light off-roading.
Audi Q7
Drivers wanting to invest in a family-friendly SUV with more seating space than the Audi Q3 and Q5, then the Audi Q7 is an ideal choice. This three-row SUV can comfortably seat seven passengers. Inside, occupants will enjoy an interior with premium upholstery and a sophisticated infotainment system. This system comes with a huge display and many nifty features like built-in GPS, Apple CarPlay, and Android Auto.
And if you're in the driver's seat, you'll appreciate the Q7's agile handling. But if the Audi Q7 doesn't suffice, you can consider its sportier variant, the Audi SQ7.
Audi Q8
Luxury, athleticism, and elegance - those are the qualities the Audi Q8 embodies. While it seats fewer people than the Audi Q7, the Q8 has the thrills and spills the Q7 lacks. This vehicle is stunning inside and out. It boasts a luxurious interior with leather upholstery and large driver and infotainment displays.
Styled like a coupe, the Audi A8 boasts a powerful engine and athletic handling for a thrilling driving experience. However, if you're looking for a sportier car, you may want to consider its performance variant, the Audi SQ8.
Which New Audi SUV Should I Buy near Anacortes, WA?
The Audi Q3 is an excellent choice if you're on a budget and looking for a compact and luxurious vehicle. However, for an equally luxurious model that's sportier with a bit more cargo space, then you may want to opt for the pricier Audi Q5. But if you need even more room, then the family-friendly Audi Q7 is a better choice. Finally, if your primary concern is luxury, sporty handling, and style, then the Audi Q8 will best suit your needs.
Visit Our Dealership for More Information
If you're interested in more comprehensive information about the models listed on this page, visit our Audi Bellingham today. Our team will be on-site to respond to your queries, offer you a test-drive, and match you with a new Audi SUV near Sedro-Woolley, WA, that aligns with your needs and preferences.
Schedule a Test Drive
* Indicates a required field